STRATA Trust Company ("STRATA") utilizes Microsoft 365 to provide a secure and encrypted email platform to any individual wishing to transfer messages and documents to STRATA securely.
INITIATING A SECURE EMAIL MESSAGE
In order to create a secure environment within Microsoft 365, the Protected Message Viewer Portal will need to be activated. Once activated, you can respond and attach documents all in a secure environment. In the diagram below you can see how encrypting your email communications helps protect your data as it travels across the internet to STRATA.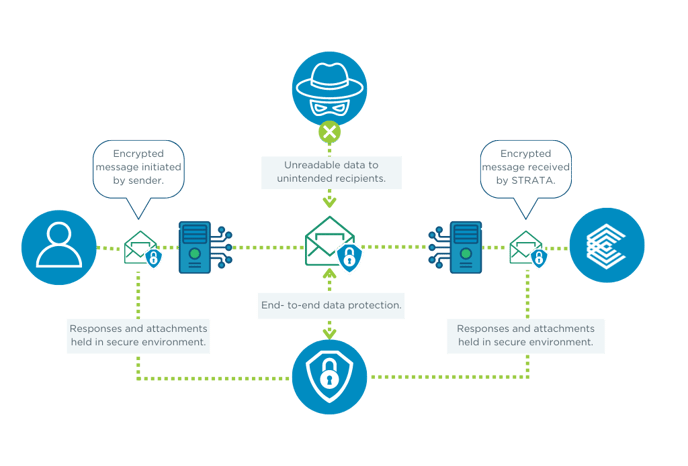 You may activate the Protected Message Viewer Portal by initiating an encrypted email to STRATA by following the steps below.
General Email Clients (Yahoo, Gmail, etc.)
Submit your secure email communication request online by clicking here.

Under "Need Help Managing Your STRATA Account?" Select "I need to send personal information to STRATA. Please initiate a secure email communication from STRATA to my email address of record."
Then select what type of communication so we may route your request to the appropriate team member.

Our team will email you back with the word "Secure" in the subject.
Follow the "Receiving a Secure Message" guidelines to open, reply, and attach documentation (if applicable).
Microsoft 365 Clients (Outlook)
Start a new email message then select "Options" from the menu bar at the top of a new message window.

Click the drop-down menu under the "Encrypt" icon and select the level of encryption you need.

NOTE: This function may have a different appearance based on the version of Outlook being used.
---
ADDITIONAL RESOURCES