Learn about STRATA's distribution process, how to set up recurring distributions, and what to expect after you complete your form.
For distribution requests not related to an RMD, please keep in mind that there are IRS age restrictions for making a penalty-free withdrawal. STRATA account holders are encouraged to consult with a tax professional regarding any possible tax consequences of a distribution.
Completing a Cash Distribution Request
Getting Started with
The IRA Distribution Request form is available with

technology. Click the previous link or the

icon

on our forms page (shown below) to complete, sign, and electronically submit your form securely to STRATA.

Enter your email address in the pop-up box (shown below) to get started.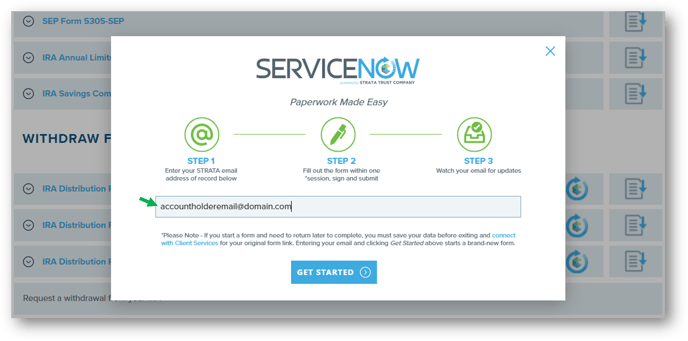 Once the landing page loads, follow the prompts to fill out all of the required fields.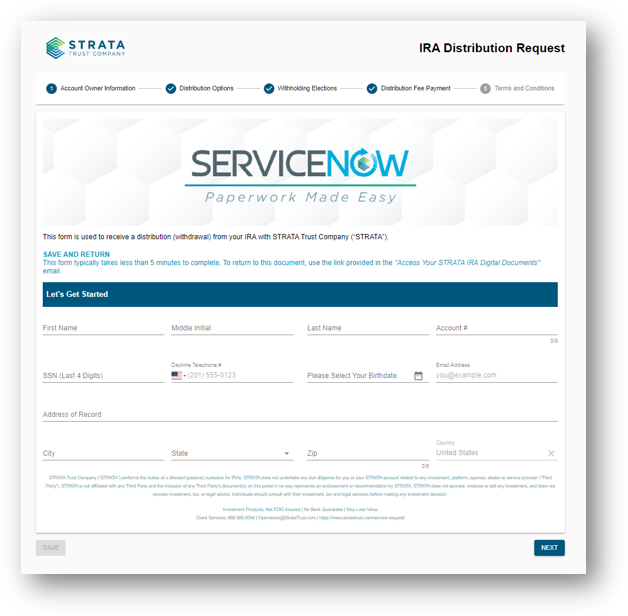 Important Points
One-Time Distribution or Recurring?
In Step 2 of 5 Select Yes or No when asked if "This a One-Time Distribution?". If a recurring distribution is selected you will need to set the cadence and will be prompted to fill out your ACH information.
In the same step as above, you will be prompted to select your distribution type (partial or complete) and then select how you would like your assets distributed (ex: in-kind, cash, or both)
Select Your Federal Withholding Election
In step 3 of 5, you will be prompted to select your state and review the Federal Tax Withholding Information. Read the Withholding Notice Information before making your state and federal withholding elections. You may select the State Tax Withholding Information link as a guide to view the minimum state-required amount.
If fees are associated with the transaction, you will be prompted within the form. Typical transaction fees include wire fees, overnight fees, withholding fees, and funding processing fees. In Step 4 of 6, you may elect how to cover fees. Click STRATA's IRA Fee Schedule to view associated fees (if applicable).
Once the form is filled out you will be redirected to the signing document where you can review the information and edit if needed, save, download, and print (1).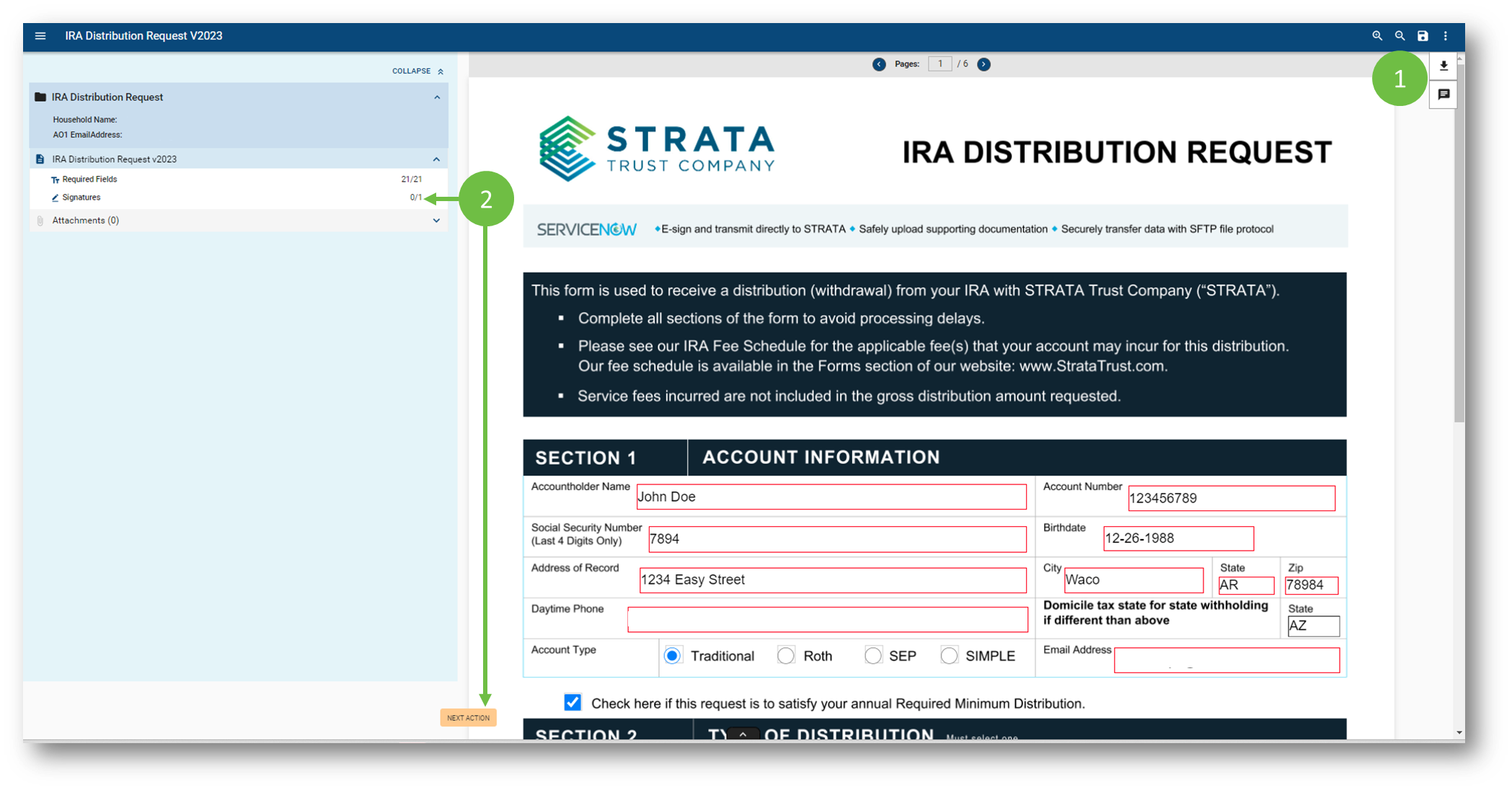 If all the required fields have been completed you may click either Signatures or Next Action (2) to jump to the signature section. If you are new to

, when you click Sign you will be prompted to create a signature profile. This is separate from any STRATA account sign-on and strictly maintains your signature for e-signature requirements.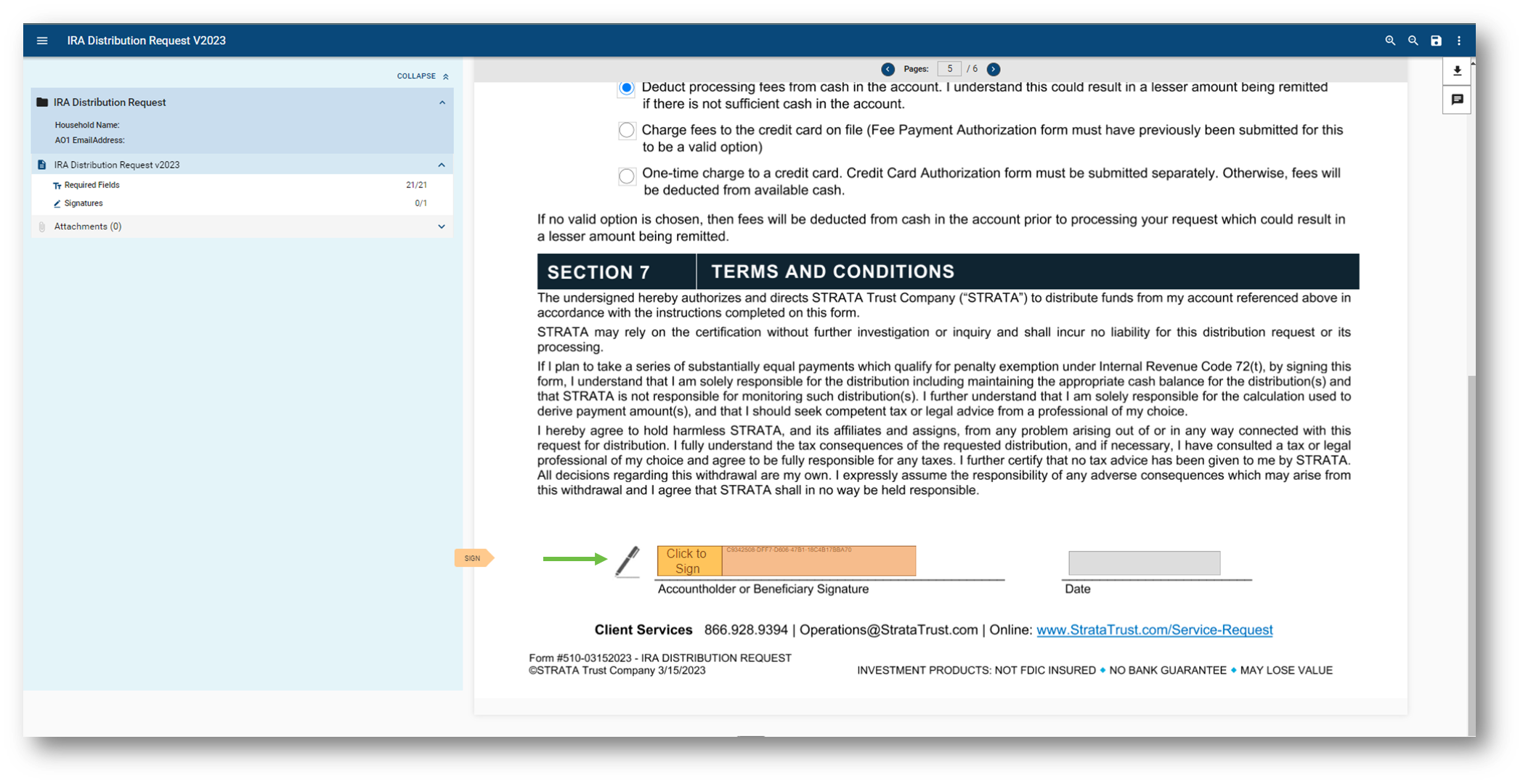 Once your signature profile is created, you will only need to enter your signature password to fill out any additional

documents going forward.

What to Expect Next
Timeline for the Distribution Process
The delivery time for a cash distribution is generally 2-5 business days. This time frame is based on the delivery method you select when completing the form. Please be aware that sufficient cash must be available to process this request.
If the distribution is dependent upon liquidations, then you will first need to liquidate those holdings in order for us to process your request.

Verification of Request
STRATA may contact you to confirm the distribution request verbally if:
The amount is anything in cash over $15k.
The payment is being sent via wire or ACH for the first time.
The account holder has requested a change to the original wire or ACH instructions.

IRS Reporting
STRATA will release a 1099-R for your distribution by January 31st, the proceeding year of the distribution year. Please refer to our FAQ section for additional questions or to learn more about IRS Tax Form 1099-R.

Additional Questions
Are You Taking a Distribution Prior to Reaching Age 59 ½?
If so, you may be subject to penalties. An IRS early withdrawal penalty of 10% applies on all pre-tax withdrawals from retirement accounts when the distribution is taken before the account owner reaches age 59 ½. However, there are some exceptions to the 10% penalty. Please consult a tax professional and see IRS Publication 598 for more information on distribution exceptions.

What Happens If I Am Taking a Complete Distribution and I Just Paid My Annual Fee?
If STRATA receives the IRA Distribution form in good order within 30 days of the annual fee payment, then we can credit that amount toward the STRATA IRA termination fee. Exceptions apply if your annual fee was paid late or is currently delinquent.
If you have Precious Metals held in your STRATA IRA, additional storage fees may apply from the third-party depository.

Is ServiceNow the Only Option?
While

provides a faster form submission process, it is not the only method you can choose. You may click on the manual submission text link to access a fillable PDF version if you prefer that option. Information on how to submit the completed PDF document is included on the form.

Connect with Client Services
Ask us anything! A member of our customer support team is ready to help. Submit your question to our customer services team online here, where we will respond to your inquiry within one business day or sooner—or call us directly at 866.928.9394.