STRATA Trust Company's Account Access offers financial professionals a secure online portal that seamlessly helps you manage investors' assets.
INITIAL ACCOUNT SETUP
Your user credentials will be mailed to you by STRATA Trust Company "STRATA" (how many days after signing up?). Once you receive your credentials, access STRATA's portal via our online Account Access. Please click HERE and follow the instructions below.
At the secure log on page, please enter the following information:
Select your device type - Private or Public (you must register from a private device initially). Once you have registered your user profile and set up your security questions, you may access your account from either a private or public device.
Enter your credentials - Enter your username and password (provided by STRATA), click "Log On" to continue.
Confirm your device - You will receive an email that will require you to confirm your device by clicking the link within the email message to continue with the log-on process.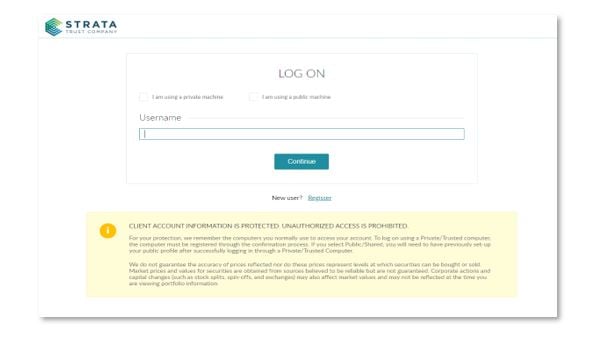 ELECTRONIC COMMUNICATION CONSENT
At initial log on, you will be asked to accept our Electronic Communication Consent Policy. Please click "Accept & Proceed" to continue logging on. If you decline the request, you will be unable to proceed with the self-enrollment process.
4. Confirm consent - After agreeing to our electronic communications consent policy, please check your email box to confirm your consent.
5. Change your password - At your initial log on, you will be prompted to change your password.